The Shepparton Deaf Facility at Guthrie Street Primary School was established in 1995. Students who are Deaf or Hard-of-Hearing are placed in classes with hearing peers.
Students participate in the same range of activities, subjects and curriculum as all other children and are supported to foster friendships with both Deaf and hearing friends.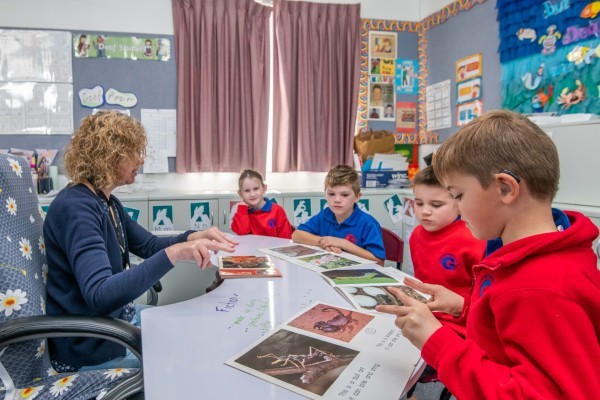 Each student has an Individual Learning plan which is developed in conjunction with parents through Student Support Group meetings.
At these meetings, individual learning goals are established, monitored and evaluated. The group decides the student's goals based on his/her individual needs.
The strategies for achieving the goals are then discussed, including a withdrawal program to provide individual and small group work in the Deaf Facility.
The Deaf Facility has established common learning goals in the areas of Speech and Audition, Auslan, Reading and Writing through Auslan, Language and Communication and Deaf Studies. These goals are achieved in conjunction with the Victorian Curriculum learning goals.
Support is provided by qualified teachers of the Deaf, classroom teachers, Auslan/English interpreters and where possible Deaf adults; giving the best possible access to mainstream education.
Each student's social and emotional intelligence is fostered through a variety of targeted activities. Students are also supported to develop a positive identity through the Deaf Studies program.
Each year students participate in an activity that allows them to meet and interact with their Deaf peers from different areas within Victoria.
Every child and classroom teacher at Guthrie Street Primary School learns sign language through the Auslan Languages program.
These weekly sessions allow everyone within the school to develop an awareness of Deaf culture and sign language.
Students' language and communication skills are developed through a bilingual model. Students learn English and Auslan and compare the two languages to develop a deeper understanding of both languages.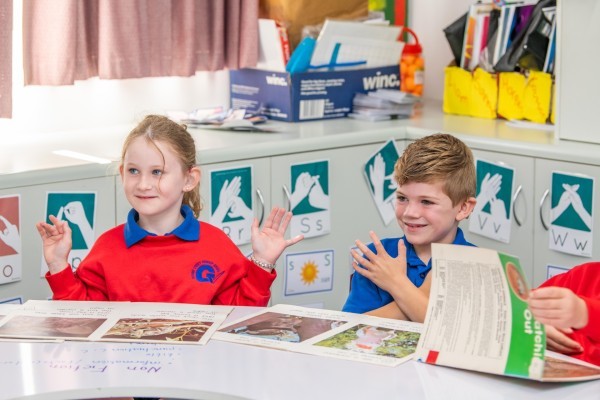 Deaf or Hard-of-Hearing students at our school are encouraged to become captains of our school. This provides students with the opportunity to develop their leadership skills including organising group activities, public speaking, delegating and supporting their peers.
Students are supported in transition from pre-school to primary school and from primary to secondary school through extended transition programs.
At Guthrie Street Deaf Facility, we support students to become confident and independent young learners, enabling them to participate in their community and achieve success in their further education.